One of the biggest challenges when you are looking for a new job or career is putting enough order into your day and home to get what you need to do, accomplished. The challenge grows exponentially when you add kids into the mix. They are notorious for pulling you away from your desk, putting Legos in just the right spot to guarantee a foot injury, and making your keyboard and mouse sticky. With this in mind, we put together five strategies to create a better space for your job search.
1. Identify a Dedicated Location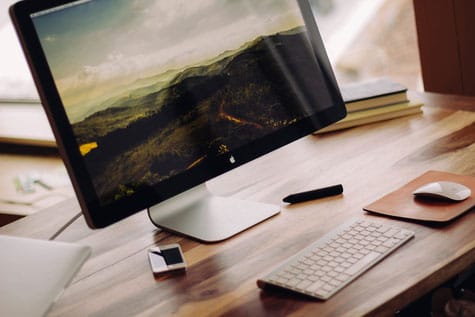 Never make your dinner table your office desk. If you do, you'll continually be moving your laptop, job descriptions, resumes and cover letters, and so forth, around whenever you have to convert it from from desk top to table top. That's a sure-fire way of misplacing important items in your job search. Even though technology has changed to where you truly can take your work anywhere, that doesn't mean you should.
Make your space appealing and motivating. You should enjoy and look forward to working in it. You don't want to give it a prison feel. Find a place with good natural light, this is known to improve your mood.
2. Clear Your Clutter and Organize
Nothing is a bigger time suck than trying to find something you need. There have been times when I've literally spent an hour tracking down an important document that was accidentally put in the wrong stack.
When I say de-clutter your space, I mean, remove everything except what you truly require for your job search. Put your knick-knacks somewhere else. You need to focus. Additionally, the more stuff you cram on your desk, the more cramped you'll feel. Minimize it.
Another suggestion is to print and file all the job descriptions of the jobs to which you've applied. This way, when you get a call from the employer regarding their job opening, you can quickly pull up the description before the interview.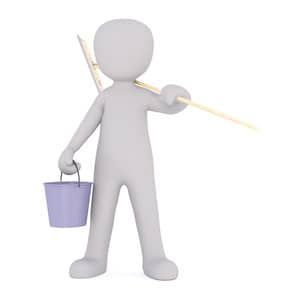 3. Block Out Time in Your Schedule
Just as important as your physical space, you need to also attend to your mental space. For job seekers who are also bearing parental responsibilities, this can be a huge challenge. You need support. Find ways so that you can set aside a part of your day toward your job search.
Block off time for one thing each day to focus on. This could be perusing online job postings, building your network, following up with contacts you've made, scheduling appointments, and so on. Just make sure that you give yourself a dedicated time in which this is the only thing you'll work on.
Not only should you put this in your calendar. You should also have all the supplies you need in advance. For example, check to make sure your printer is loaded with enough paper and ink, fill up a large glass of water, have a few snacks to keep your energy, ensure you have a few pens and post-its, etc.
But don't just schedule your work, schedule some breaks in there too. You need to keep your energy up from the start of the day to the finish. So plan on a 15 minute break every couple of hours to get up, walk around, use the bathroom, and so forth. Your brain will thank you.
When you're at home, it's too easy to rationalize flipping on the TV and letting it run while you work. But distractions hurt your focus.
When I used to recruit, I would get resumes where the person spelled their own name wrong! My guess is that they were distracted and weren't paying attention when they wrote it up.
I always wondered how many employers passed them over because of it.
5. Have a Plan with Your Family
Finally, while I know you love your family, when you're looking for your new job or career, you have to sit down with your loved ones and explain that during certain hours, mommy or daddy needs to focus. Tell them that unless there's a real emergency, you don't want to be disturbed.
Try to find support where you can. If the kids are with you while you're out looking for work, see if there are any friends or family willing to do a little baby-sitting so you can accomplish what you need to, whether it be attending a networking informational meeting or interviewing for a job.
Then make sure you have scheduled time for your family so they know there will be some QT with you after you're through with your job search for the day.  After all, both you and they deserve to have some fun!
---
About RockIt Career Consultation Services
At RockIt Career Consultation Services, our mission is to help you discover your true strengths and use these strengths to set your course to something more rewarding and exciting in your career.
We will guide you on what job or career best suits you and then help you market yourself through your resume, your networking strategies, your interview skills, and your negotiation to ensure that you are doing something you love and are maximizing your earning potential. Throughout, we will be there to keep you motivated and determined.
We'd love to help you launch your career and encourage you to learn more about the services we can provide you on your path to a more prosperous future. With our help, you will become the applicant every company wants to hire!
Please follow and like us: